Nintendo Switch - External Display / Dock Over Usb C with WIMAXIT 15.6" Portable Monitor!
WIMAXIT Portable 15.6 Inch Gaming Monitor, USB-C/Type-C1080p Full HD IPS External Screen with Mini HDMI for Laptop, PC, Samsung Dex, Xbox PS4 Switch,Office
Video source:@ModzvilleUSA!
This is a surprise product, the screen is very large, very clear! It's like a tablet computer, you can connect my samrtphone with it with type-c port, and there's no delay in playing games! If you use it to work, it can be used as the second screen of the computer, thus dealing with multitasking!
It has excellent workmanship, rich accessories, a charging line with typec interface and HDMI line, as well as a large screen protector! This portable monitor is very well-built and good quality.
The image quality is very good you can tell that it is full 1080 P. It is also very bright for a portable monitor. This portable monitor is also super easy to use it comes with a USB-C to USB-C port That plugs directly into my laptop. And if you don't have a USB-C port It also comes with HDMI cord.
I have also used it with my Nintendo switch and it makes the screen so much larger and easier to play with friends.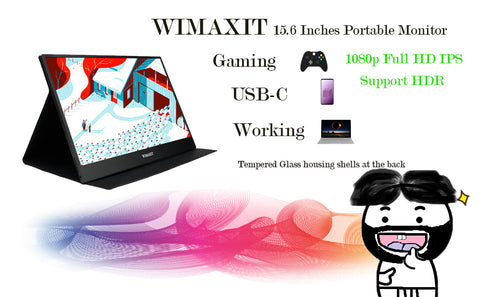 About this item
【See More】Easily attach extra monitors to your laptop via Type-C/ Mini HDMI. You can also connect a wireless/ wired keyboard or mouse to the extend monitor via the micro USB OTG adapter. Which makes get more Information and increase your work productivity

【Travel Working assistant】 Only one Type-C cable (USB 3.2 Gen 2)connected, at least requires 10Gb/s Transfer speed on your device,Power& Touch& Video all delivered. Turn Android smartphones into working stations instantly, give you the best on-the-go working experience,

【Gaming Monitor for More】 not only Turn your Android smartphones into working stations,Also Connect by HDMI,Work with PS4 / XBOX One / Nintendo Switch,Spare your time with more Choices

【Computer one cable function Support】You can use one cable to connect it with your computer like for MateBook D/X/X pro/E ,for MagicBook ,for Lenovo Y7000/P Y9000K,for AUSU U4100UN,U5100UQ,for HP Elitebook 1050 G1,for Google PixelBook, for SurfaceBook 2 and more other devices with 10Gb/s and higher transfer speed port

【10Gb/s Transfer Speed Cellphone Support】 This Display Support Galaxy S8/8+/9/9+ note8 note9/10, Mate10/pro/p20/p20pro/RS, Lumia950/XL, and Smartisan R1/Pro 2S. you can share your phone screen on this display. and more Type-C Cellphone Support is coming
#wimaxit #wimaxit15inch portable Monitor
Click 
Order Wimaxit 15 inch portable monitor from Official Store
: